You guys, how are we already half-way through 2013? I feel like I just rang in the new year and now here I am making summer plans and soaking up sunshine. PS: It's already super hot here in Florida.
My apologies for being MIA. I seriously looked at my calendar and realized it's been two weeks since I've checked in with you guys. Whoops! Life has been ridiculously crazy but ridiculously awesome at the same time.
Let's recap.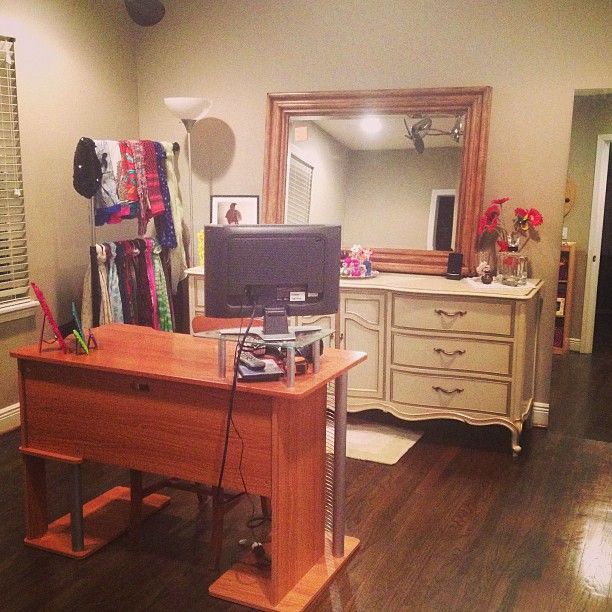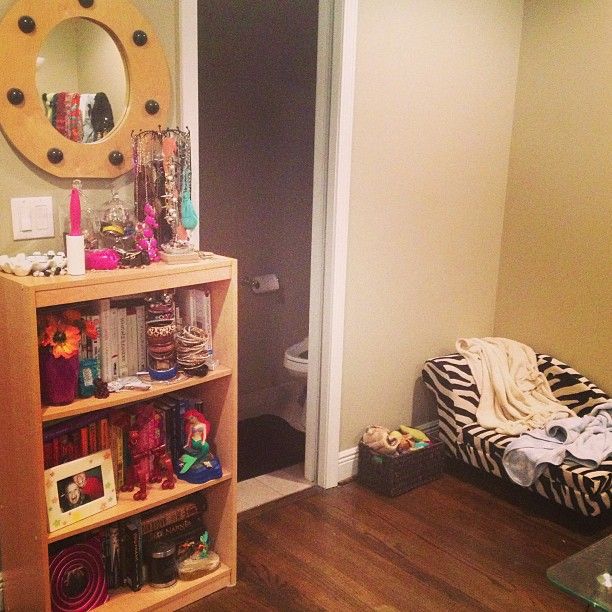 The week after our trip to Pensacola was a blur of house cleaning and rearranging. My roommate moved out so I took the opportunity to do some late Spring cleaning and split my bedroom back up into sleeping quarters (bedroom, duh) and a beauty studio (office/dressing room). There's still a lot to do and I'm looking forward to new decor. My head (and Pinterest) are reeling with ideas! But more on that later.
Once I got off work on Saturday, June 1st (a little early even thanks to my awesome boss), Adam and I headed up to Atlanta for a quick trip to visit his family and sightsee. We took the car and the dogs this time. And I'll be honest – I kind of missed the bike.
On Sunday morning, we headed to the Georgia Aquarium. We stopped at The Varsity for lunch before heading over to look at the fish. (Mmmm, chili dog!)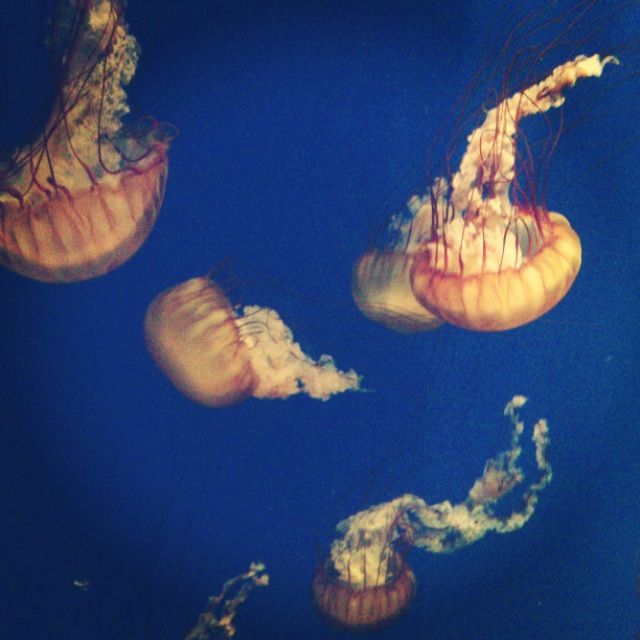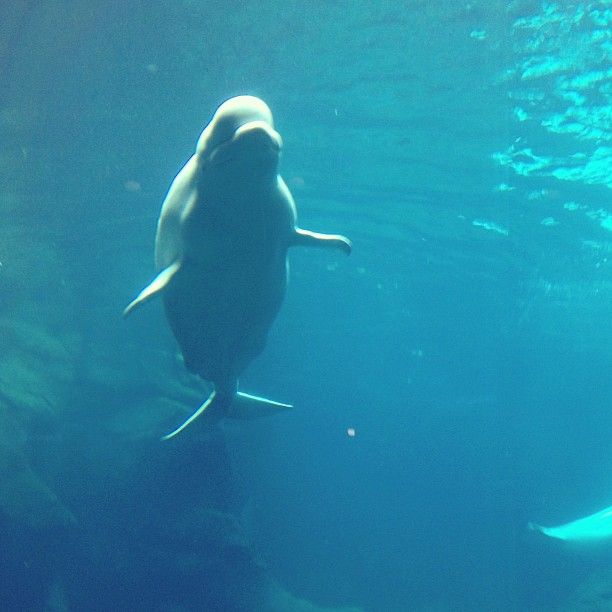 We had a great time looking at all the different aquarium exhibits. I took advantage of my Vine account and posted a few videos. (Here's one of some penguins and another of some otters.) My favorite exhibit was probably the beluga whales. I was surprisingly underwhelmed with the whale shark exhibit. I guess I'd hoped they'd have been bigger. But I enjoyed playing the Name That Fish game with Adam and showing off my marine knowledge. (Just a side effect from working at a tackle store.)
After the aquarium, we walked over to the World of Coca-Cola. Sidenote: Active military gets in free to the Coke factory so that was pretty cool. We walked around and checked out the history behind the Coke products and got a chance to taste the different flavors from around the world. If you visit, don't taste Beverly. It's a soda from Italy that is awful. So awful I'm convinced it's a joke just to gross out patrons. The most bitter tasting drink I've ever tasted. Blech!
We wrapped up Sunday afternoon with dinner at Atlanta restaurant Bantam + Biddy with friends. On the way to the restaurant, we purchased a Groupon which gave us each a cocktail, starter, entree, and dessert for $28. Awesome deal! The food was excellent and I sipped on one of the best mojitos I've ever had. They're famous for their rotisserie chicken, though I had the meatloaf which was delicious, and for using local free-range and pastured chickens as well as a lot of organic ingredients. Definitely worth a stop if you're in the area. I wish I had taken photos of my food for once.
Monday morning we had a quick bite to eat with Adam's family at the Chick-Fil-A Dwarf House (like, a sit-down restaurant version of Chick-Fil-A) and we were headed back home. It was a quick trip to Atlanta but it was just what we needed to get the summer started and wrap up Adam's two weeks of leave.
Between the trips to Pensacola and Atlanta, I've suffered a little bit from the post-vacation blues. I've kept myself busy with continuing to clean up the house and working. Work has carried on as usual. As the summer heats up, so does our business so the work days have been flying by. But, enough about work!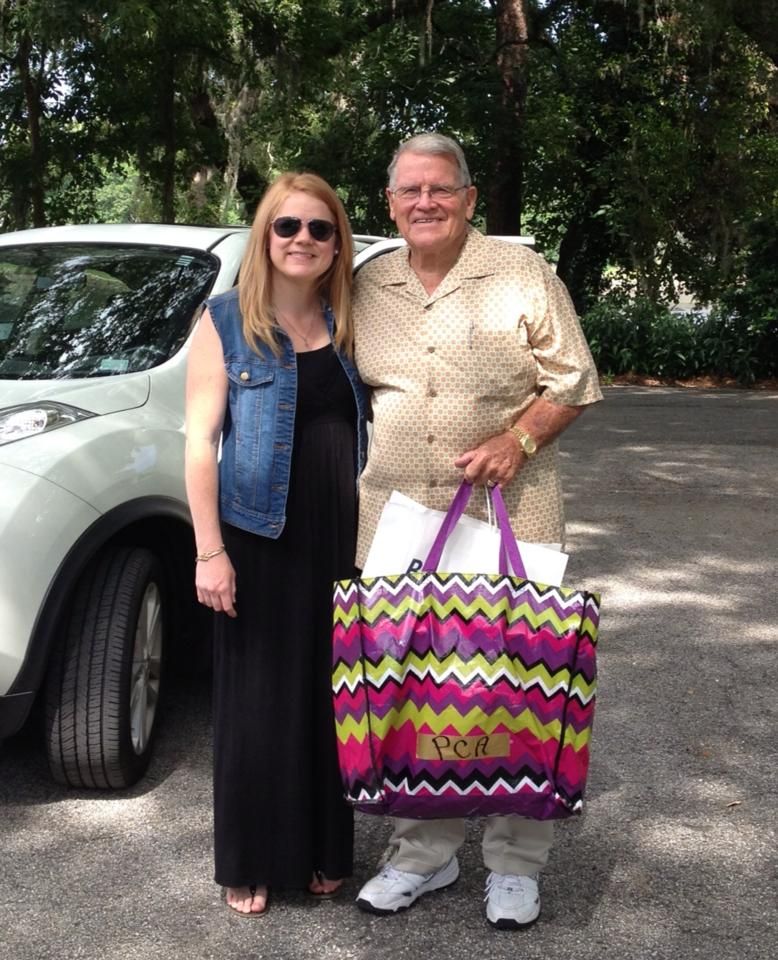 Last Saturday I got the opportunity to participate in something really cool. Poppie managed to score two tickets to the Antiques Roadshow and asked me to go with him. Tickets are really hard to get (Poppie has applied eight times and only got these tickets from a friend who wasn't using them) and are chosen through a lottery. We were allowed to take two items each to have appraised and had the possibility of being interviewed for the show. I took two pieces of jewelry – a ring and a string of jade beads – and Poppie took two pieces of art. We didn't end up getting chosen to film for TV and waiting in horribly long lines, but it's something neat to say that I did and probably something I'll never get the chance to do again. And I got to spend the afternoon with my Poppie. The weirdest thing I saw? This two-headed stuffed llama that I later learned is from the 1960s Dr. Dolittle show and worth thousands of dollars. Huh?
Saturday night, Adam and I headed downtown for dinner and dancing at The Landing. As we were walking up, we could hear a live band and I told him it sounded like The Red Jumpsuit Apparatus. He agreed that it was their song but probably wasn't them. I disagreed and sure enough we had stumbled upon a Red Jumpsuit Apparatus concert. Pretty cool since they're local guys and one of my favorites as a teenager. We decided to eat outside so we could enjoy the show and headed to the bar to dance afterwards. It was a fun night with my sweetheart.
When Sunday rolled around, I was exhausted. I just wanted to relax by the pool with a book but Adam was adamant about fishing, even if for just a little while. So I obliged him and joined. I wasn't all that excited to pond hop and just sort of haphazardly casted my line out. Low and behold, I ended up catching two nice sized bass and one small fry. (Adam only landed one small fish.) He was so mad, especially since he knew I really didn't even want to be there! I guess next time he'll let me have my way and leave me by the pool.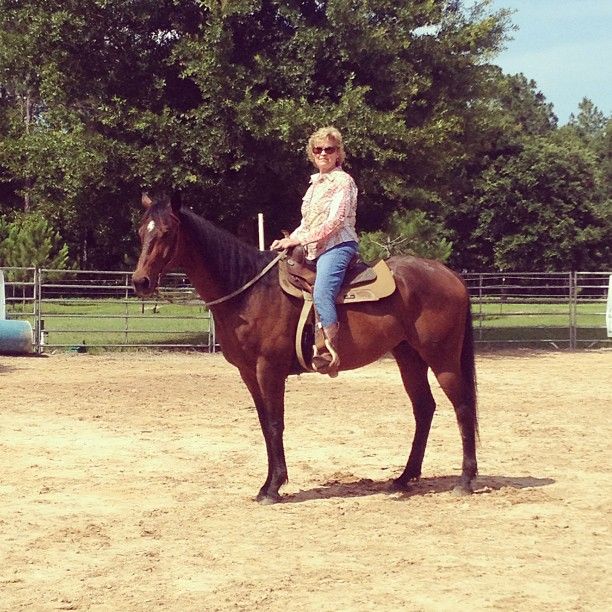 I never did get to relax in the sun and before I could blink an eye, it was already time for my Monday afternoon adventure. I called Nana earlier in the week and told her to be ready at 2pm on Monday with her jeans and cowboy boots. I didn't give her any other clues as to what we were doing. Just showed up and drove her 45 minutes south. The surprise was horseback riding! I purchased a Living Social deal a couple months ago for a 90-minute trail riding adventure for two and couldn't wait to surprise her. She had such a great time and got to check another item off her bucket list. Granddaughter of the year or granddaughter of the year? We had a blast! Also, how cool is my grandmother for going horseback riding with me? The coolest, obvs.
*DEEP BREATH!*
So, now you can see why I've been kind of MIA around these parts. Life has been going by so fast that I'm barely having enough time to comprehend it all much less write it down on paper. (Erm, proverbially.) Some other smaller events that have happened since we last spoke?
Adam and I not-so-ceremoniously celebrated nine months of dating. And by "celebrating" I mean I realized a few days later our anniversary passed. (At least I'm not one of those weird, clingy girls…?)
Florida entered Hurricane Season and we had our first "tropical storm" of the season. And everyone was all ERMEGERD TREPECAL STERM and the news blew it out of proportion (no pun intended) and it rained and it was gusty and we all survived.
Luna has been dubbed Cone Cat because she's developed some sort of skin issue that's left her itchy and scratchy and turned her forehead into a giant sore. Yeah, it's as wonderful as it sounds. Not. She's got an appointment at the vet tomorrow morning. Pray that it's an easy fix and isn't going to cost me an arm and a leg.
I still haven't managed to make time for the gym. Do I get some grace since I've been going so hard? Maybe? I really, really want to get back into it. Just have to make it a bigger priority.
FINALLY saw Fast & Furious 6 and loved it. Seriously, just as good as the others. Except it left my boyfriend wanting to drift my Juke out of the movie theater parking lot. Um, no.
I've started reading Amanda Knox's "Waiting To Be Heard" on my Nook. (Haven't used that thing in a long while.) I'm enjoying the book but I have mixed feelings about her so far. I guess we'll see how I feel at the end of the book.
I've taken a sudden liking to Dunkin Donuts dark roast iced coffee.
I've been trying to clean out my closet. I posted some items on Instagram and Poshmark that are worth selling. The rest has either been donated or thrown away. I've still got quite a few items that I'd like to sell. Would it be worth it to post them on here or would you guys rather just check out my Instagram and Poshmark closet? Holla 'atcha girl.
I'm hoping to get back into the swing of things next week. We don't have any grand adventures planned for a while, though who knows what kind of spontaneous plans we'll make, so hopefully I can have some time to myself to write and take some outfit photos. So, I'll work on that while you share what's been going on with your life. Deal? Deal.