If there's one thing you should know about me it's that I love a good DIY challenge. After posting some Summer pinspiration last week, I couldn't wait to try my hand at one of the projects. There's so many things I want to do around the house, but I decided to pick one area that would be inexpensive to work on. The idea of the stenciled rug kept floating through my mind and I decided to start with the back porch.
My porch is small, but makes a great space to relax. Adam and I like to sit outside some nights and chat over a glass of wine to wind down from our day. But with only two small chairs and a small side table, there wasn't much ambiance or comfort.
I originally started with the budget of $40 to $50 which wasn't going to cover the cost of the porch swing bed I desperately wanted. So, I decided to challenge myself to make the best of this small space with limited funds. My original idea was to work with the furniture I had, DIY a stenciled outdoor rug, and find inexpensive decor that would work outside. After receiving some unplanned funds, I upped my budget a bit but knew I couldn't go over $75.

Here's a before shot. (Sorry for the quality of the first shot. It was early in the morning.) What a boring space! You can even see the horribly chipped columns and unpainted beam. The furniture is in pretty good shape considering it's been sitting out there for two years. Totally usable but I still hoped to find something new.
Here's what I planned for the space:
Create a DIY rug with a cheap outdoor rug, an anchor stencil, and some white acrylic paint.
Work with the furniture I had on hand unless I found a good deal on new furniture. (Good deal being $30 or less.)
Hit the dollar store for some candles and other accessories.
Plants. Something to hang and something to keep in a pot on the porch.
Budget? No more than $75.
Friday night I started gathering my supplies and all the tools I would need including my husbands best leather tool belt. I picked up an inexpensive grey outdoor rug from Home Depot. Once I got home, I laid the rug out on my kitchen floor. The measurements were way too big for my area (I knew they would be). I used my tape measure to decide how big I wanted my rug to be. I marked the rug on the reverse side according to my measurements and cut it. The rug was easy to cut, I just used my kitchen shears, making sure to cut in a relatively straight line. I then set to work stenciling my anchors.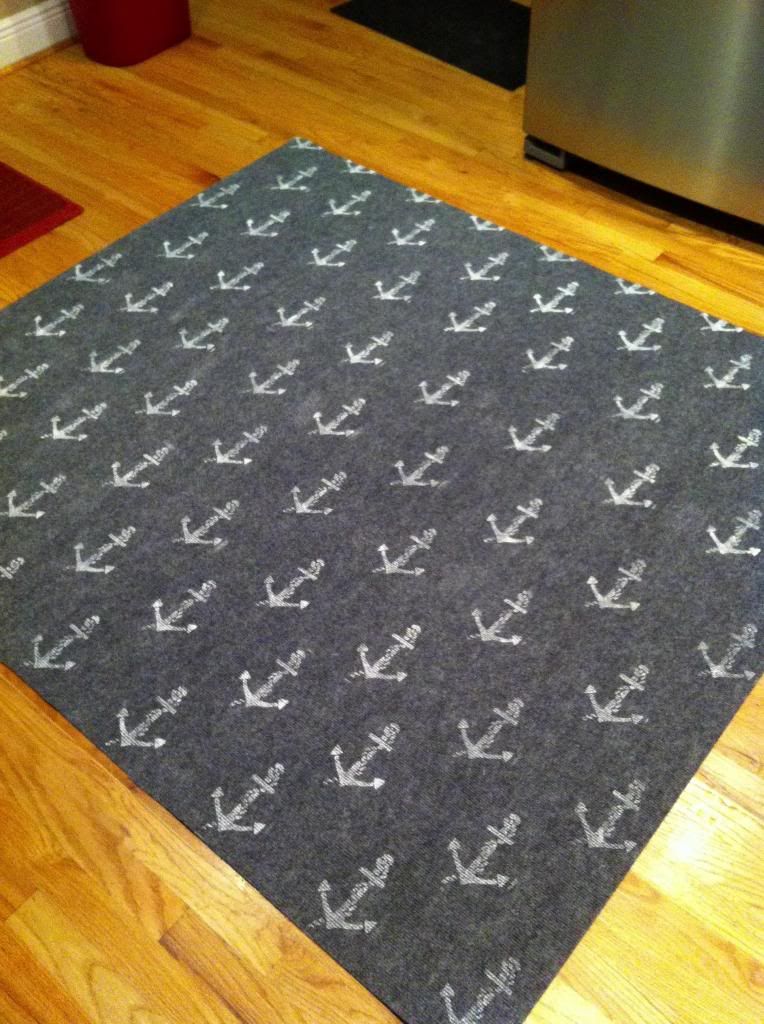 I'll save you the boring details of how I actually stenciled it. (You can check out my inspiration for more thorough stenciling instructions if you need them.) I wanted the anchors in a pattern but I eyeballed the whole thing, which made it aligned enough but not perfect. Obviously Luna was a big help and you can see where I tested out my stencil on some scrap rug. Once I finished painting, I placed it in another room to dry over night.
Sunday morning I woke up early and set to work cleaning the porch. I made a list of items I still needed (plants and possibly furniture) and headed to run my errands.
After I'd gathered all my supplies and returned home, I set to work painting the beams and columns with some leftover semi-gloss white paint. I'm not really that great of a painter but I did what I could. Once I had the first coat on, I taped off the glass on my side table and gave it a coat of spray paint. I let everything dry and went inside for a while to eat lunch, watch some TV, and let the weather cool off a little bit. Meanwhile I gathered items for my tablescape.
Once the weather cooled down a bit, I added a second coat of paint to my beams and columns as well as to the table. I ended up quickly cutting two more pieces of rug to set at the stairs into the house. One I quickly stenciled with some stars and an anchor. The other piece had anchors stenciled from my test. I started assembling everything and this is what I ended up with.
Ta-da! Not bad, huh? And would you believe I came in under budget? Before we go into a list of items and their costs, here's some more photos.

<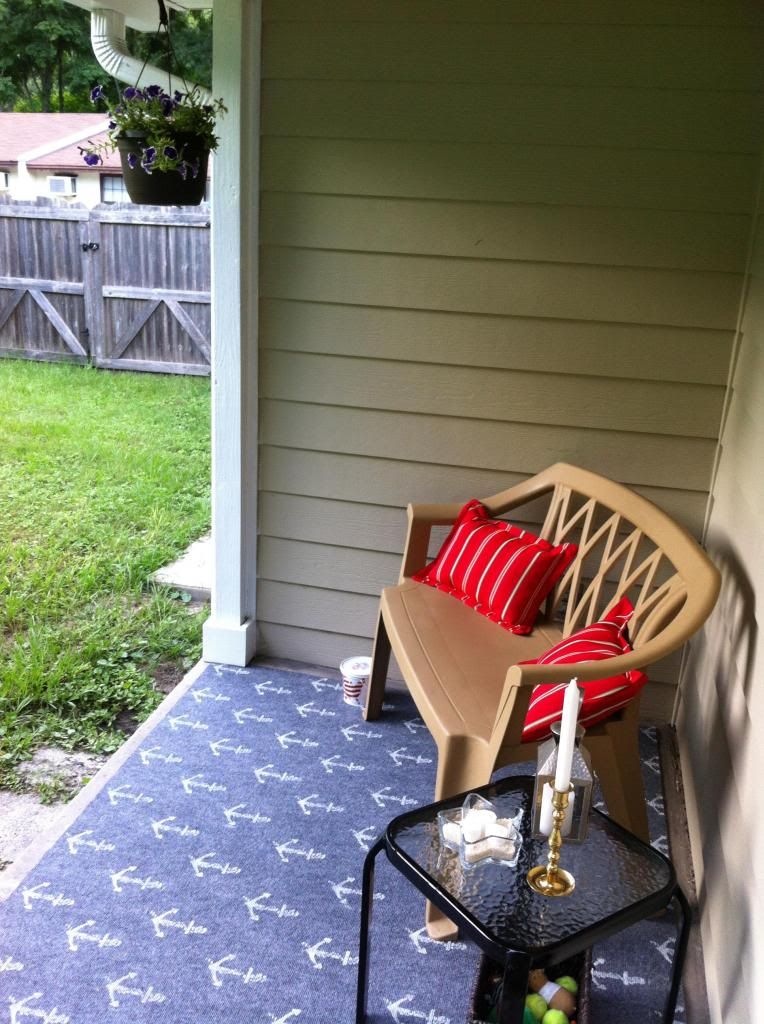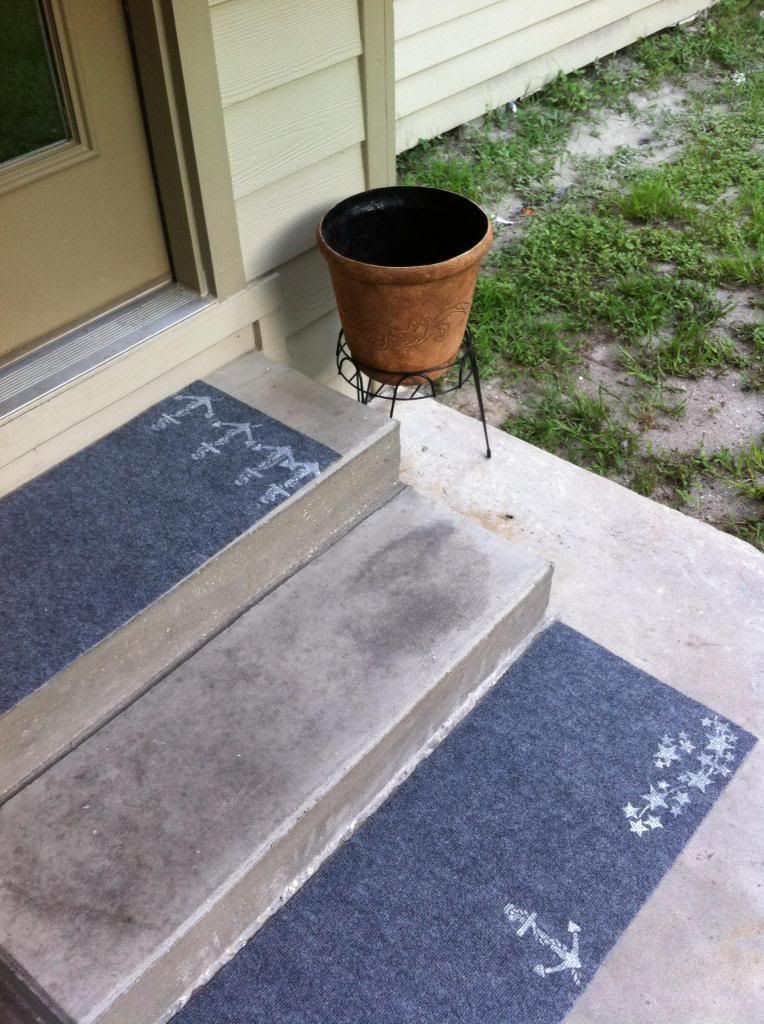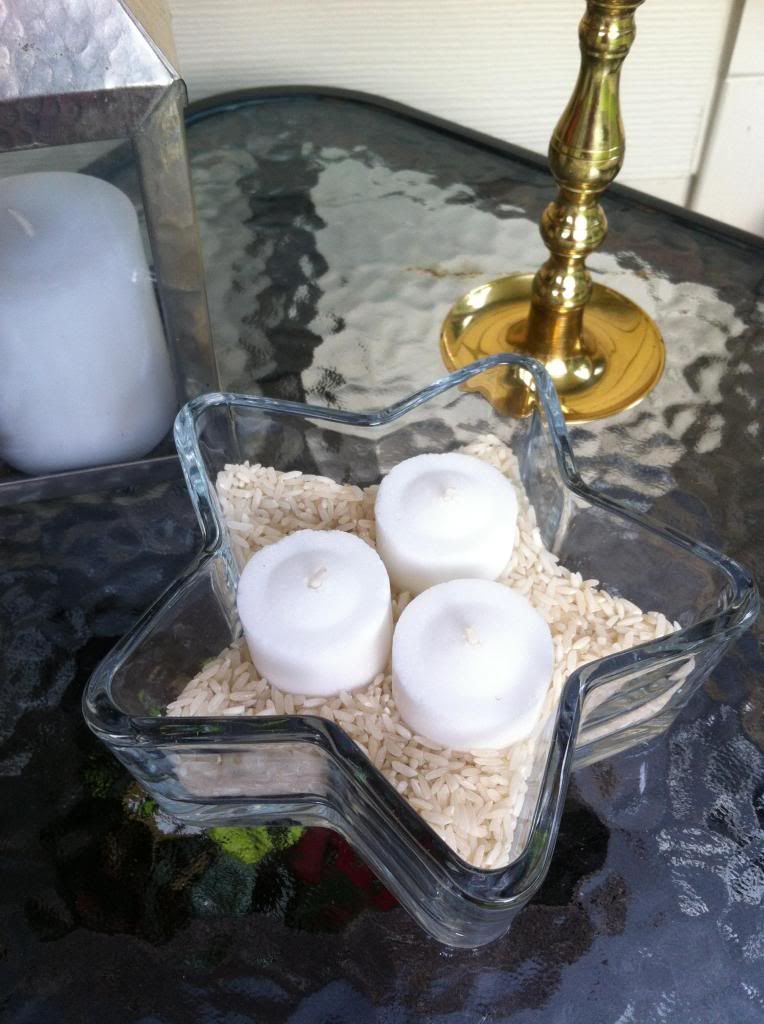 Alright, so you probably want to know how much I ended up spending right? Here's a cost break down.
Bench (WalMart) – $25
Pillows (WalMart) – $3 each
Rug (Home Depot) – $18
Stencil & Paint – FREE
Table & Spray Paint – FREE
 Lantern & Candlestick – FREE
Votive candles, Pillar Candle, Glass Star – $3 (purchased at dollar store)
Citronella Candle (WalMart) – $5
Basket & Toys – FREE
Hanging Basket – $4
Planter Stand – $4
Planter – FREE
Paint (for column and beam) – FREE
TOTAL WITH TAXES: Right at $70
Obviously if it says FREE I paid for it at some point. Those are just items that I already had on hand. There's still a couple of things I want to do – like find plants for the planter (maybe an herb garden?), hang some sort of wall art, and string some lights. But I'm happy with the results of the weekend. This project would have been right at my original budget had I not decided to purchase the bench but I love the way it looks out and the bench is a lot more comfortable to sit on than the metal and mesh chairs.
This project has definitely left me inspired and I can't wait to start on another room in the house. Up next? Probably my master bedroom in preparations for cohabitation.