If Adam has taught me anything, it's to be more spontaneous. So, when he said to me, "Pack a bag. We're headed to the Pandhandle for four days. Oh, and we're going on the bike," I freaked out momentarily and then rolled with it. Our plan was broad – head to Pensacola Friday morning, attend the memorial service at the Vietnam Wall on Sunday afternoon, and make it back to Jacksonville sometime Monday. Other than that, our options were open.
My first thought – how the heck am I going to pack?! Let me tell you, I am no light packer. My motto is always more is better but being limited to only carrying what would safely and comfortably fit on the bike, I had to rethink my strategy.
To throw another wrench in the plan, I had no idea what I was packing for. I knew we'd be gone for four days, I knew we'd be on the bike some, I knew we'd have some downtime with friends. So I packed light – a couple t-shirts and tanks, a light sundress, a pair of jeans, a pair of jean shorts, undergarments, two pairs of sandals, two belts, handful of jewelry, pajamas, a light scarf, and curling iron. Everything fit into a small back pack. I packed toiletries and makeup into a cosmetic bag. All of my belongings fit into one saddlebag. I was pretty proud of myself for managing to narrow things down.
And you know what? Even that was too much. I could have brought maybe half of what I did thanks to the load of laundry we did at a friend's house and wearing things more than once. Noted for the next trip.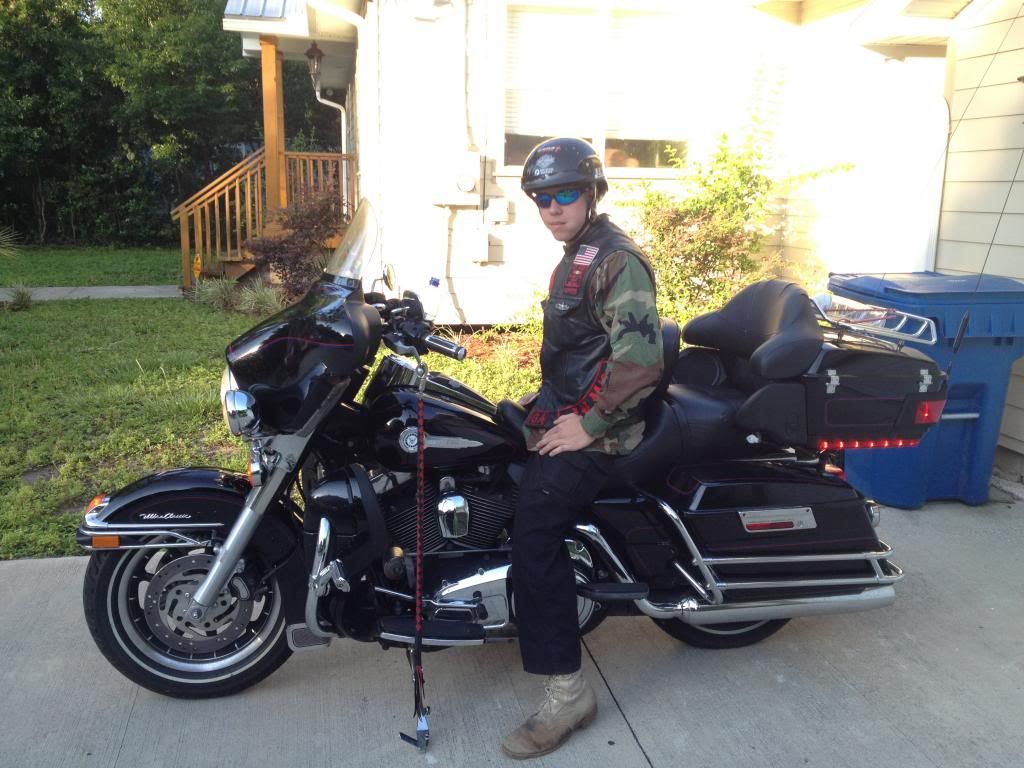 We left Jacksonville right before 8am on Friday morning with the intention of staying with some friends of mine that night. We took our time driving over, even stopping in Destin so Adam could reminisce at a hotel he stayed at numerous times as a kid. (Nevermind that we looked a little out of place walking on the beach in our bike gear.) I figured out that it is possible to read and ride. (Though, if you're one to get motion sickness, I wouldn't recommend it.) It took us about nine hours to make it to Pensacola but that's all part of the adventure.
Pulling up into my friends' driveway was so exciting. I haven't seen them in years and a tear or two may have been shed when I finally got to hug my friend Tara. Tara and her husband, Chris, are good people. The kind of friends who pick right back up where you left off no matter how much time has passed. Needless to say, it was so great to see them.
I got to spend time with Tara and Chris on Friday night while Adam tended to other obligations. The last time I saw their daughter, Madilyn, she was quiet, barely two-years-old. This trip she was a chatterbox full of jokes and constantly cracking me up. I don't think I've ever laughed that hard at a child. I loved every minute of it. That night we slept hard. It's amazing how much riding and the heat will take out of you.
Tara and Chris threw a cookout Saturday afternoon with their family and close friends. After visiting for a while, Adam and I suited up and hopped on the bike to spend some time with members from his motorcycle club. We were welcomed with open arms, drinks, and a spaghetti dinner. I quickly picked up a new nickname – Wiggle Waggle – and met members from numerous different states. It's always a good time.
We stayed with Tara and Chris again on Saturday night and woke up early Sunday morning to prepare for the memorial service. It was hard to leave them but I was so grateful for the time spent with them and their generous hospitality.
We met up with the club members and began lining up for the ride to the wall. Have you ever seen HUNDREDS of bikes go down the road at the same time? This was my first time and let me tell you, it's nothing short of awesome. People lined the streets and waved as we rode by. Some saluted, others waved flags, and kids smiled at the sight of hundreds of police escorted bikes rolling down the street. It was probably the highlight of the trip for me and something I'll remember for a long time.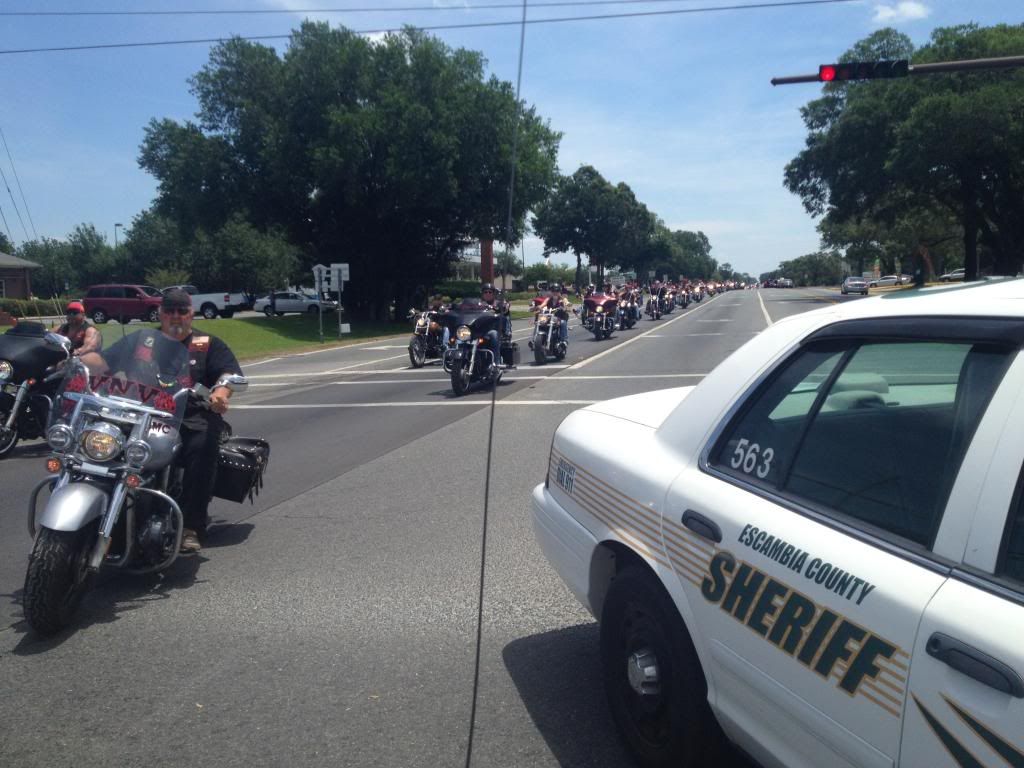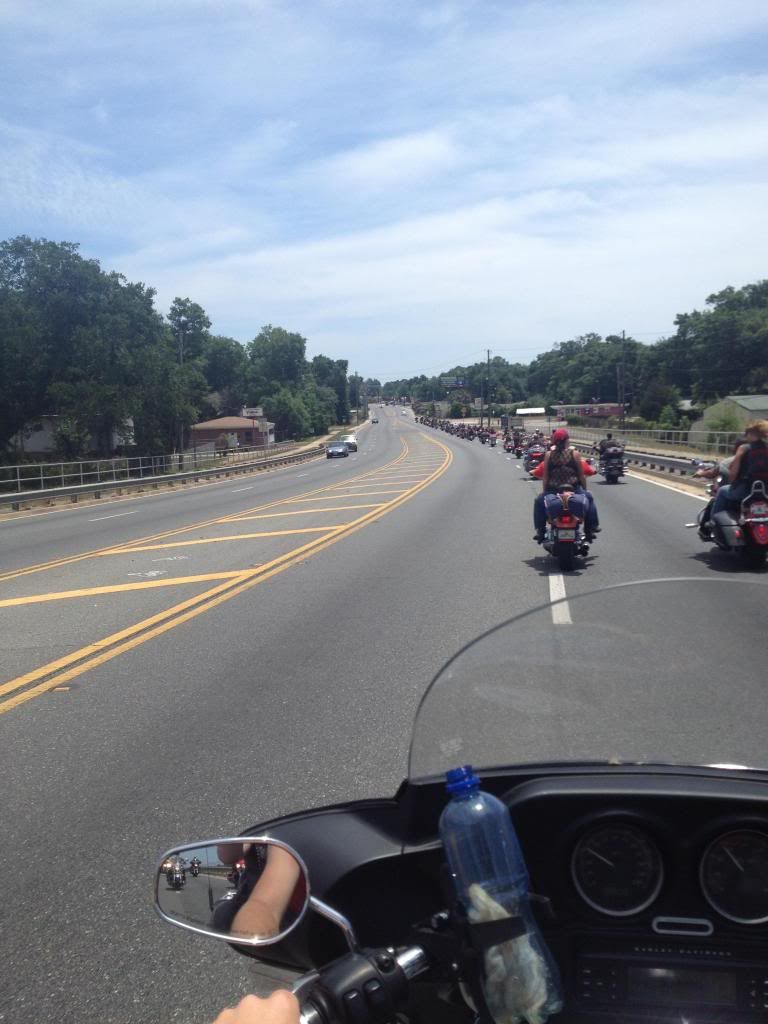 The service at the wall was poignant. The speaker was a draftee from the Vietnam war who has made it a life mission to make sure those who fought during the war are remembered. I learned a lot about Memorial Day. It's not a "happy" day or one to be congratulated. It's a day of remembrance for those who laid down their lives for this country. Veteran's Day is for thanking those who serve. Memorial Day is for remembering and thinking about those who died in combat. It's important to remember the difference between the two. Each day is equally important, but different in meaning.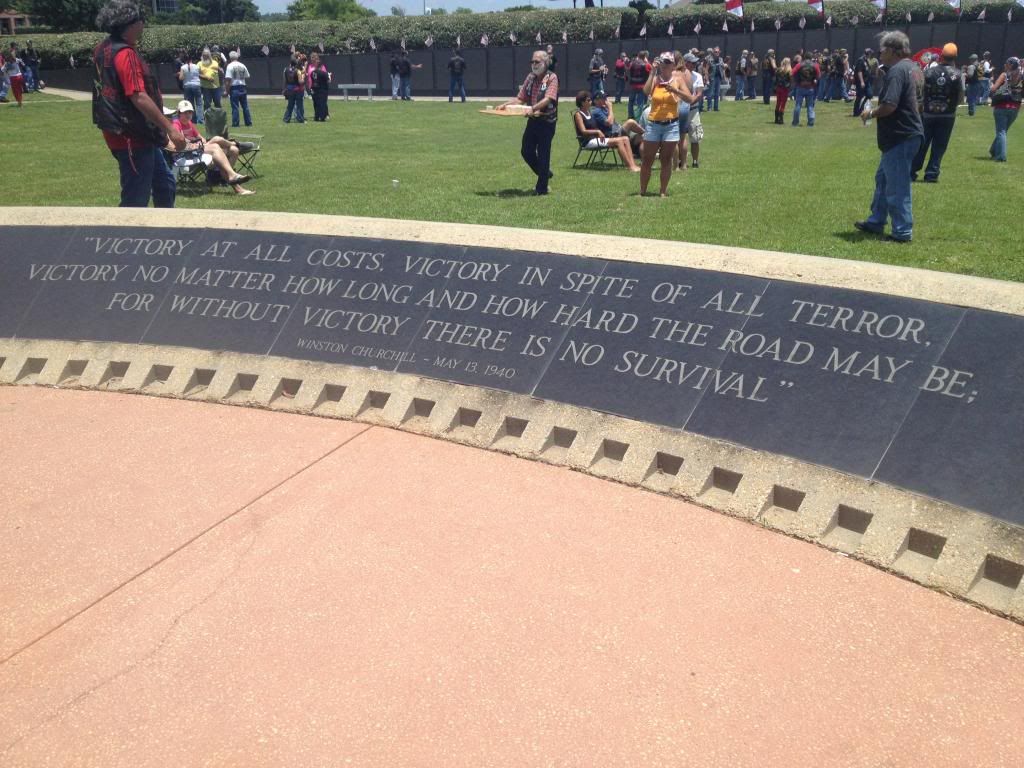 The service wrapped up and we stopped for lunch before hitting the road to Fort Walton Beach for the night. We stayed with Adam's cousins and had a great time barbequing, drinking wine, and sharing stories. I love meeting his family. They've all been so welcoming to me. After a good night's sleep, we hopped back on the bike and headed for Jacksonville.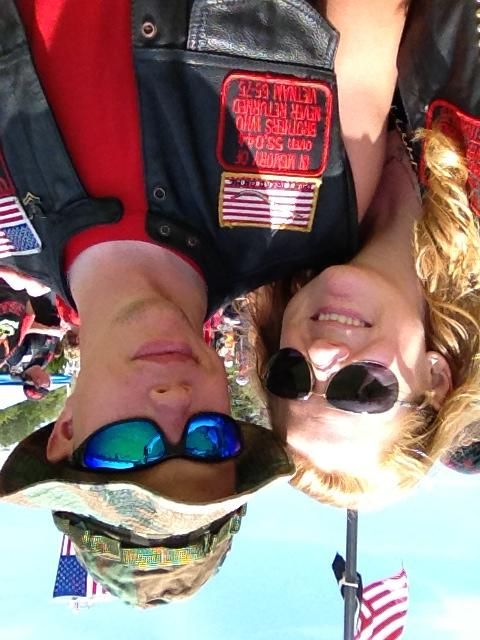 The ride home was a lot shorter than the ride there since we only stopped for gas and lunch in Tallahassee. (At one of my favorite places – Ghengis Grill. We seriously need one in Jacksonville.) We were grateful to pull into the driveway and I couldn't wait to hug my furry boys. The trip was an absolute blast, but there's nothing better than home, sweet home.
To wrap things up, here are some numbers from our trip.
1,204 miles travelled
4 days
3 nights
2 different beds
9 hours there
6 hours home
2 people
1 Harley-Davidson
5 cities visited
3 minor setbacks
9 familiar faces
2 family members
1 load of laundry
27 bottles of water
14 stops
4 large teas from McDonald's
3 packs of gum
1 read book
68 hugs
123 new friends
1 new nickname
and COUNTLESS memories!
Next up? Atlanta! We'll be headed up on Saturday night for some time with Adam's family, a trip to the Georgia Aquarium, and who knows what else we can get into.